Women's Enrichment Weekend
Greensboro, North Carolina
We are pleased to host the North Carolina Women's Enrichment Weekend at the Greensboro Airport Marriott sponsored by the Greensboro and Raleigh, North Carolina congregations. 
For updates, join our Facebook page NC Women's Enrichment Weekend: June 5-7, 2015.
Theme
Courage to Step Out of Your Comfort Zone
Life presents us with many situations that can be unnerving, intimidating, or just plain scary. But walking through—and even embracing—those challenges and opportunities is an important part of our spiritual and emotional growth as women. How can we find the courage to move beyond fear and grow in Godly wisdom and character? During this Women's Enrichment Weekend, we will explore together the benefits of stepping out of our personal comfort zones, and how even challenging situations can be tools God can use to develop our character.
We hope you'll join us for a weekend of learning and fellowship as we consider these questions: 
Just why should I get out of my comfort zone? After all, it's comfortable!
In what areas do I grapple with discomfort or fear?
What real-life strategies can I use to gain courage in stepping out of my comfort zone?
Schedule of Events
Speakers: Peggy Good, Lisa Fenchel, Gayle Hoefker, Katherine Rowland Interactive Workshops: Melody Moss, Laura Scott
June 5
5:30 pm

-

Hotel Check-In and Registration

7:00 pm

-

Welcome Reception & Activity
June 6
8:30 am

-

Breakfast

10:00 am

-

Sabbath Services

2:00 pm

-

5 pm - Presentations & Courage Workship Part 1

6:00 pm

-

Banquet Dinner

8:00 pm

-

10:00 pm - Evening Activity
June 7
8:00 am

-

Breakfast

9:00 am

-

12:00 pm - Presentations & Courage Workshop (Part 2)

12:00 pm

-

12:15 PM - Closing Comments & Farewell
The Venue
Greensboro-High Point Marriott Airport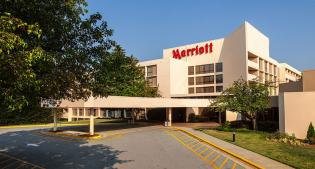 Set on 17 picturesque acres, this peaceful retreat offers convenient proximity to Piedmont Triangle International Airport, downtown Greensboro, the furniture markets of High Point, businesses in Winston-Salem and much more. Guests enjoy modern event space, fresh, seasonal fare in the Brush Creek Lounge & Grille and the unique outdoor Saura Gardens. Amenities include indoor/outdoor pool, exercise room, jogging/fitness trail, whirlpool, sand volleyball and a nearby golf course. 24-hour complimentary airport shuttle provided by hotel. Free parking for registered guests.
Registration Information
Cost:
$129-$289 per person/weekend
Registration deadline: April 17, 2015.
A $50 deposit is required with your registration. Balance is due April 17, 2015. Due to our contract with the hotel,  no refunds can be offered after May 15, 2015.
Registration Information
Registration fees below are all-inclusive and include Marriott lodging for Friday and Saturday nights (June 5 and 6), Friday evening welcome reception, Saturday and Sunday hot breakfasts and Saturday evening banquet.  
The following prices apply per person for the weekend:
Private room for two nights: $289
Double room for two nights: $179
Triple room for two nights: $149
Quadruple room for two nights: $129
Commuter Rate: $79
*For those ladies who are requesting a triple or quadruple room, please indicate this on your registration form!